Jodi Picoult
Several years ago, nine women (myself included) got together for a ladies weekend in Florida. We'd all met online, though many of us had met in person as well.
One of the activities that we did that weekend was a book exchange. We each brought a used book that we had enjoyed and thought that our friends would enjoy as well. We wrapped them and exchanged them much the way a white elephant is run--with one book being chosen at a time and each person having the option of "stealing" another person's book.
The book I went home with that weekend was Jodi Picoult's
Plain Truth
. It was the first time I'd read anything by her and was immediately captivated. She explored the loyalties and disciplines of the Amish--through the story of an unmarried Amish teenager who was found with her dead baby and charged with its murder.
I was impressed with her sensitive handling of the topic and fascinated by the depth of culture that she was able to reveal without being exploitative or condescending. It was a sympathetic story that was also intense in its suspense.
At BookHelpWeb, we have a review of this and many of Picoult's other books--all written by the woman who first gave me
Plain Truth
. (You can find them here:
http://www.bookhelpweb.com/authors/picoult/picoult.htm
)
Coming later this week, we are especially fortunate to be able to run an exclusive interview with Jodi Picoult. She was incredibly responsive, giving us an interview even as she was readying to launch on tour for her latest book.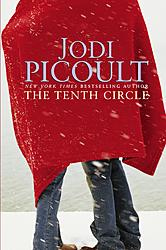 Her latest book,
The Tenth Circle,
was released today. In it, she partners with graphic novelist Dustin Weaver. He provides the artwork in this story about a comic book artist and a teacher of Dante's inferno who must deal with the date rape of their daughter. It's a combination of two art forms that is sure to be fascinating, especially in such deft hands as Picoult.
If you'd like to see her on tour, her appearances are listed at:
http://www.jodipicoult.com/
And I'll let you know here when you can read our interview with this talented author and the review of her latest book.
Until then, good reading to you!